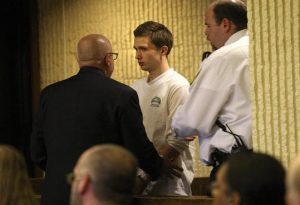 As a Massachusetts intoxicated driving criminal defense attorney, I was saddened to read about an accident in Lynn that took a young woman's life. Julie Gauthier, 19 and of Salem, died March 21 while her allegedly drunk boyfriend was driving her home from a party. Christopher Maxson of Marblehead, also 19, is accused of drinking before he ran two stop signs, hit another vehicle and collided with three parked cars before overturning and hitting a fourth. Gauthier was ejected from the vehicle's sunroof and died at the scene, while Maxson and two other passengers sustained only minor injuries. The Boston Globe reported March 23 that Maxson has pleaded not guilty to motor vehicle homicide while operating under the influence.
Lynn police and school authorities highlighted the fatal accident when they began speaking to parents about the importance of safety during the school district's upcoming proms. The Daily Item of Lynn reported March 31 that authorities held the first of three Parent Prom Safety Information Nights at Lynn Classical on March 25. Just four days after the crash, police officers emphasized that it could have happened to anyone — even kids who weren't drinking or doing drugs. Police officers who spoke said prom is a time for students to make wise decisions, and emphasized the dangers of drinking and driving.
But a local prosecutor also emphasized the Commonwealth's "social host" laws. Enacted in 1998 after a fatal OUI accident, social host laws penalize people who provide alcohol to minors. In fact, the prosecutor said, parents don't need to have bought the alcohol themselves, or even be home, to be criminally prosecuted for knowingly allowing kids to drink alcohol under their roofs. If convicted of furnishing alcohol to a minor, parents and others face up to a year in jail, a fine of up to $2,000 or both. And regardless of whether they are convicted, the presentation said, they can also be sued in civil court, an expensive and emotionally difficult prospect even if they win the case.
As a Massachusetts OUI criminal defense lawyer, I'd like to discuss this law further, because it allows criminal prosecution in several situations that most people would not consider criminal. Parents are allowed to serve their own minor children alcohol in Massachusetts, but under the social host law, they may not furnish alcohol to other minors. Nor may they knowingly allow their minor children to furnish alcohol to other minors. The definition of "furnish" includes intentionally allowing someone under 21 to have alcohol on property under your control. An overzealous prosecutor could interpret this as allowing criminal charges for parents whose teenagers get into alcohol left in plain view, even when they didn't expect or give permission for their kids to drink it. In cases where the parent can prove they didn't provide the alcohol themselves, teenagers can still be criminally charged for giving alcohol to their friends.
The social host law can be used even when there was no car crash or other harm from the drinking. That means parents can be criminally penalized for doing something that's no big deal in most other Western nations — allowing a young adult to have a drink with dinner. As a Massachusetts drunk driving criminal defense attorney, I know very well that drinking and driving can have life-altering or even fatal consequences. As prom season approaches, teenagers and parents should remember that. But the social host law applies to any situation in which a minor under 21 is given alcohol — not just dangerous drunk-driving situations. Safe, responsible drinking by someone who just happens to be under 21 shouldn't expose a teenager — or a parent — to a criminal record.

If you're charged with operating a vehicle under the influence of alcohol or drugs in Massachusetts, you should call the Law Offices of Stephen Neyman. The firm offers free phone consultations, so you risk nothing by learning more about your legal options and your rights. To set up a consultation, please send a message through the site or call (617) 263-6800 today.