Shayna Fernandez admitted to drinking her last beer as late as 4:30 in the morning this past Saturday. Just over two hours later she was involved in an accident on Route 93 in Andover. As a result of that accident two people died and one was injured. According to reports Fernandez had recently dropped a friend off in Lowell. She ended up on Route 93 northbound. Witnesses have indicated that she might have been driving as fast as ninety miles per hour in the far left lane when she hit a car being driven by a sixty two year old Saugus man. The victim's car rolled over. The driver and one of his passengers were killed and a third man survived with injuries. Fernandez failed Field Sobriety Tests at the scene. She took a Breathalyzer Test and blew a .145, nearly two times the legal limit. Bail was set at fifty thousand dollars cash. The case will likely be prosecuted in the Salem Superior Court even though the district courts have jurisdiction over the charges. Fernandez is being charged with two counts of Motor Vehicle Homicide, Negligent Operation, OUI and assorted Criminal Motor Vehicle Offenses. A conviction for these crimes will likely result in a state prison sentence for Fernandez.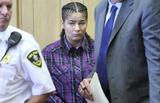 Read Articles:
http://www.boston.com/news/local/massachusetts/articles/2011/06/14/woman_pleads_not_guilty_in_fatal_andover_crash/
http://www.eagletribune.com/local/x1814654783/Lawrence-woman-held-on-50K-after-double-fatal-crash
Massachusetts Motor Vehicle Homicide Defense Lawyer
Any Massachusetts Criminal Defense Lawyer will tell you there is no up side to taking a Breathalyzer Test, and in most instances the same sentiment applies to Field Sobriety Tests. Fernandez's problems defending this case will no doubt be compounded by the negative results generated by these tests. Jurors rarely acquit where high readings are involved. Eyewitness testimony about the rate of speed at which she was traveling was sufficiently damaging to her defense particularly in a case where death resulted. An accident reconstruction will likely be performed by the state police, possibly supporting the eyewitness' observations. Driving ninety miles per hour with the death of innocent people resulting, will, in and of itself trigger a criminal prosecution. A suspicion of alcohol ingestion or intoxication magnifies the problem. However, failed tests validate the subjective findings of the police and make defending this case extremely difficult. It is important to remember that in Massachusetts the prosecutor cannot mention to a jury that a defendant refused to take a breathalyzer test. Nor can the district attorney comment on a failure to attempt to perform field sobriety tests. What they can do is take the results of these tests, if taken, and use them to support their prosecution. It is much easier to defend someone who has not taken these tests.