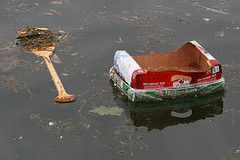 A man was arrested in Alaska for operating under the influence Aug. 3, 2012 as he floated down a river on an inflatable raft. In Alaska, as in Massachusetts, the legal limit is 0.08. A wildlife trooper arrested William Modene, 32, after authorities received reports of a "heavily intoxicated" man floating along the Chena River. Modene's alleged BAC was 0.313. "Modene had been floating on the river for the day and consuming alcoholic beverages the entire time," according to the troopers' website.
Alaska's drunk-driving laws apply not only to vehicles but also to "water craft," which is defined as "a vessel used or capable of being used as a means of transportation on water for recreational or commercial purposes…" In interpreting a law, such as the Alaska OUI law at issue here, courts do not consider the wording of the statute alone, but also try to determine the intent of the legislature in enacting the law. Courts generally consider the words used in connection with the causes of the law's enactment and the goal to be accomplished.
Here, it would seem that by including the "water craft" language, the Alaska legislature likely intended to cover boats, jet skis, and other such motorized watercraft. Operating boats and jet skis while drunk has become a rising concern, and boating accidents have been the cause of thousands of injuries and deaths in recent years, according to Global Legal Resources. Typically, the primary goal of OUI laws like this Alaska law is to protect the lives and safety of the public. While it appears that a float would be included under the wording of this law, the legislature likely did not intend to criminalize drinking while on a float or inner tube, as such activities generally do not endanger the lives or safety of the public.
The reader "Comments" section on the Fairbanks Daily News website indicates that a majority of readers thinks that arresting this man for OUI was unreasonable. One reader wrote, "How can a guy in a non-motorized plastic blow up boat do any harm to anyone but himself?" Another reader wrote, "I don't need someone to run my life and tell me what is safe or not safe as long as I'm not endangering others…Can I drink beer and go swimming in the ocean?" Yet another reader wrote, "I disagree with all of this. If he causes no harm to others, leave him be. If he dies, see you soon." One reader who supported the arrest wrote of Modene's "self endangerment" and the duty of the police protect "people who…are incapacitated to the point of self endangerment. " This sampling of reader comments illustrates the topic of our last blog post, which involved the idea of potential harm to others v. potential harm to oneself.
To read the article upon which this post was based and the accompanying reader comments, see:
Massachusetts Drunk Driving Defense Law Firm
Operating under the influence laws throughout the country, including Massachusetts OUI / DUI / drunk-driving laws, are increasingly being applied to cover a broader range of conduct. This arrest for operating an inflatable float while drunk is just one example.

Contact a Massachusetts OUI/DUI/DWI/drunk driving attorney if you have been charged with operating under the influence. You can reach Stephen Neyman at (617) 263-6800.