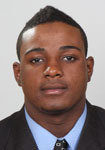 A Boston College Eagles player was arrested in New York for drunk driving and driving without a license. The Staten Island Advance reported Jan. 13 that Dominick LeGrande, 20, was arrested early on the morning of Jan. 10. LeGrande, a sophomore linebacker with the Eagles, was spotted by police at a bar in Stapleton, NY that police suspect serves underage patrons. After he got into his mother's vehicle and drove away, police followed him and stopped him for a defective headlight. At the scene, officers noticed signs of intoxication from LeGrande. He admitted that he had been drinking, and a breath test showed a BAC of 0.164, just over twice the .08 legal limit. He was arraigned in the local criminal court for driving under the influence of alcohol and driving without a license, and released without bail until his April 1 court date. Neither BC nor LeGrande would comment.
Read article: Drunken, unlicensed driving rap for former star athlete at Island school
Because the incident took place in New York rather than Massachusetts, LeGrande will be tried under the laws of that state. But if a Massachusetts OUI criminal defense lawyer were handling a case like this, I believe he or she could mount a good defense. First, I would like to take a closer look at the legality of the original traffic stop. The article said police were staking out the bar where LeGrande was drinking because they suspect it serves minors. It also mentioned that LeGrande was driving his mother's 2002-model vehicle. This suggests that the defective headlight that formed the basis of the traffic stop may have been an excuse rather than a serious concern. If the court finds the stop illegal, all of the evidence generated by that stop, including the breath test and LeGrande's own statements, would have to be thrown out.
Even if this is not feasible, or the client prefers to plead guilty, that doesn't mean he'd be harshly punished. In fact, I believe an experienced Massachusetts drunk driving criminal defense attorney could make a good case for the 24D program, were this a Massachusetts DUI case. LeGrande has no reported previous offenses, and there was no accident or injury in the case — not even property damage. Because of his status as a fairly high-profile athlete, he is likely to face a suspension for at least a game or two, regardless of what the courts do. He is also likely to be attacked in the press, making it tempting for authorities to "make an example" of him. However, too many criminal penalties could end his athletic career, even though a first drunk driving conviction is unfortunately a common mistake among college students. That makes it essential to avoid a first DUI conviction now, possibly by entering the 24D/alternative disposition program or pleading guilty to a lesser charge like reckless driving, if that state permits such a resolution.

If you're facing charges of intoxicated driving, you should call the downtown Boston Law Offices of Stephen Neyman. Our office serves clients throughout the Boston area and all of eastern Massachusetts who are facing OUI charges, license suspensions and related legal problems. Remember, you're not necessarily guilty just because police say you are. To learn more, please contact our office online or call (617) 263-6800 to set up a consultation on your case.